Latest news
Make sure you have ticked the box to say 'yes' to receive the latest Go CV news, offers, exclusive deals, flash offers and discounts on your account. Read our latest and past newsletters below. You can also follow us on Facebook and Twitter.
Latest Newsletter
Latest News – April 2021 and re-opening our Partners
---
Current competitions and offers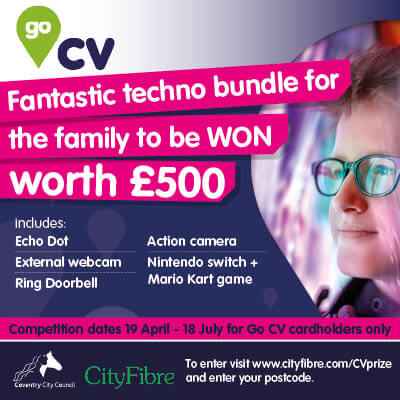 Register and you could win a fab 'Tech Bundle' worth £500.
At CityFibre they're working really hard to bring full fibre connectivity to every home and business in Coventry.
And like many people you might be wondering what all the 'fibre' fuss is about? Well, quite simply full fibre brings you unparalleled digital connectivity both in terms of speed and reliability. They are designed for data hungry homes and businesses bringing you the technology of the future today and we want to let you know when you can expect this in your area.
All you have to do is register (takes less than a minute) and CityFibre will update you as the build progresses. Enter your details, using this unique link for Go CV cardholders only, to be in with a chance of winning the fantastic tech bundle worth £500.
Full Terms and Conditions. The main things you need to know are that you must be aged 18+; you must have a Go CV account, the competition is strictly one entry per household and the winner must consent to publicity – that's only because we want to show you that competitions like this have real winners.
---
Past Newsletters
March 2021 – Easter Offers and Re-opening information
January 2021 – Here's comes 2021
Happy Christmas from Go CV and 2020 annual round-up!